¡Dos por uno señoras! jajaja Hoy vengo a hablaros de este pequeño drama, "Nail Shop Paris" que como bien dice el título, parece más una consulta del psicólogo que una tienda de manicura...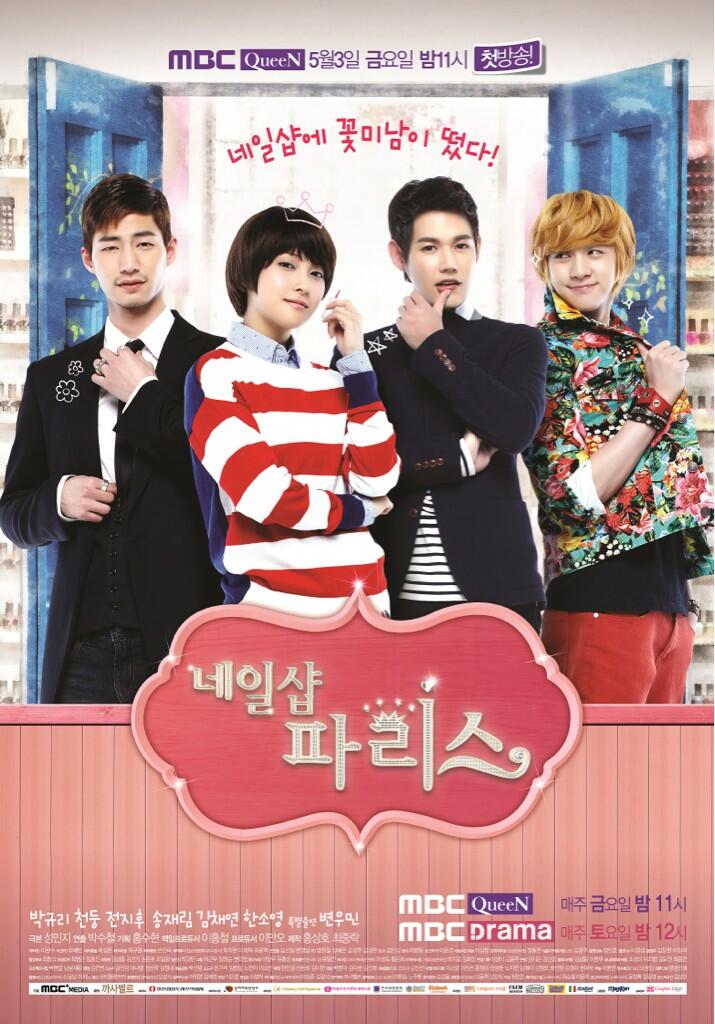 *Estás escuchando; Don't Say Anything- Bong Gu / Nail shop parís OST
Título: 네일샵 파리스 / Neilsyap Pariseu
También conocido como: Nail Salon Paris
Género: Drama, Romance, Comedia, fantasía
Episodios: 10
Cadena: MBC QueeN
Período de emisión: 03-Mayo-2013 al 28-Junio-2013
Una comedia romántica que gira en torno a chicos guapos artistas de uñas y los acontecimientos que les rodean. La historia se centra en Hong Yeo Joo, una escritora de una novela de internet que se viste como un chico y es contratada para trabajar en el famoso salon de uñas "Paris" donde sólo hombres pueden trabajar.
PROTAGONISTAS;
Jun Ji Hoo Park Gyuri
Yeo Joo, nuestra protagonista es una escritora que no encuentra, digamos inspiración para seguir escribiendo sus novelas. Así que tras encontrar por casualidad la tienda Paris de uñas y ver a sus tres apuestos trabajadores, decide infiltrarse de incógnito como un chico para observar de cerca a Alex, su muso personal, es inspirarse para su nueva novela basándose en él.
No me extenderé mucho en esta reseña, porque es un drama tan simple que tampoco hay mucho que decir jajaja. Empezando por la historia diré que no es una historia original, porque la premisa "chica se hace pasar por chico" está ya bastante trillada, podemos verlo en "The first Shop of Coffee Prince", "To the beautiful you" "You are beautiful" y muchos más.... pero a pesar de eso no sé porqué me siguen llamando la atención estas historias, me da curiosidad siempre y diversión ver a una chica haciéndose pasar por chico jajaja pero, ¿Para cuándo una historia de un chico haciéndose pasar por chica? seguro que reiríamos un montón XD
La historia en sí es muy muy ligera, sin complicaciones y si lo miras sin ser demasiado duro, es un drama que es bastante entretenido, ya que cada capítulo se centra digamos, en la historia personal detrás de una clienta que llega a la tienda llena de secretos y ellos van sonsacándole e investigando y descubriendo, qué le pasa a esa clienta. Entonces es más entretenido que si fuese la misma línea argumental siempre. Pero a veces el guión se les va un poco de las manos, porque en serio muchas veces en vez de manicuristas parecían psicólogos o detectives, ¿qué pasa? ¿Nunca entra gente normal en vuestra tienda? Mujeres traumatizadas y con problemas una detrás de otra jajaja
Peeeerooo.... jajajaja creo que como he dicho antes , el guión se les llega a ir de las manos, y eso que son sólo 10 capítulos. La historia tiene muchas partes un poco de relleno, y se comienza a olvidar un poco de la trama principal por querer contarnos las historias de las clientas y sus soluciones, por eso se queda un poco el romance y la historia de la protagonista bastante de lado, hasta casi el final de la historia.
Hablando sobre las actuaciones, lo siento mucho pero Gyuri, pero dedícate a cantar, porque la actuación no es lo tuyo. Aunque no lo ha hecho sumamente mal, realmente se le notaba en muchísimas ocasiones que estaba actuando y las expresiones eran muy muy planas generalmente y poco naturales en su mayoría. Jun Ji Hoo que interpreta a Alex, ha estado un poco mejor, aunque tampoco ha acabado de convencerme, les falta fuerza.
Él único que sí me ha gustado su actuación es Song Jae Rim, un personaje la verdad de lo mejor desarrollado de la historia, y el actor lo ha hecho genial. Que esa es otra, los personajes principales, necesitan más profundidad, centrarse más en ellos y en que la audiencia los conozca , porque en general son muy planos. Y bueno el personaje de Thunder creo que es un copia/pega del personaje de Jeremy de You're beautiful, es ¡todo sonrisas!
Y el final me ha gustado, no es el típico drama donde la prota se queda con quien crees que se va a quedar, o con quien nos hacen creer más bien XD (aunque me gusta saberlo siempre para que no me confundan)
Concluyendo, "Nail Shop Paris" es una serie ligera, sin muchas complicaciones para verla cuando no sabes que ver. Pero no esperes una serie profunda, emocionante y llena de detalles, porque no lo es :S , pero bueno al menos entretiene algo que es lo que importa :)
PD: Y esas uñazas que les ponen en la serie a las clientas....seguro que pocos platos friegan jajaja