¿Os gustaría ver cómo funcionaban las clases sociales en la época Joseon? Entonces os animo a ver este drama y leer mi reseña :)
*Estás escuchando: "Dim Memory" - Jun Jong Hyuk /OST Oficial
Título:

하녀들 / Hanyeodeul

Género: Drama, Histórico
Episodios: 20
Cadena: jTBC
Período de emisión: 12-Diciembre-2014 al 28-Marzo-2015
Horario: Viernes y Sábados 21:45
Banda Sonora Original: Maids OST
La historia sobre la clase más baja de sirvientes durante la era Joseon.
Gook In Yub es la única hija de una familia noble. Ella es famosa por belleza, porte y distinción, Gook In Yub se convierte en sirvienta de la noche a la mañana cuando su padre es señalado y etiquetado como traidor.
Ella termina enamorándose de uno de sus compañeros, Moo Myung, quien es el más atractivo sirviente y hábil Guerrero de Hanyang. Él también es un hombre misterioso que esconde su verdadera identidad y pretende ser un sirviente.
Mientras tanto, Eun Gi es un hombre que lo tiene todo, desde inteligencia hasta apariencia. El es el novio elegido para In Yub y formara una rivalidad con Moo Myung por alcanzar su amor.
PROTAGONISTAS
Si ya lleváis tiempo leyendo mis reseñas sabréis que cada vez que empiezo uno del estilo histórico me tiemblan las piernas jajajaja porque generalmente dramas que me encanten de este género, son el 10% de ellos. Me gusta muchísimo la ambientación, los vestuarios que te transportan a la época pero estos dramas para mi gusto tienen una gran falla y es que se centran demasiado DEMASIADO en los líos políticos y en subtramas por el estilo de venganzas, asesinatos etc etc, que se me hacen muy pesados.
Decidí darle una oportunidad a "Maids" ya que los dramas de la JTBC me parecen muy buenos y bueno la historia pintaba interesante.....
HISTORIA/ARGUMENTO:

Cuando el padre de In Yub es acusado de traición, toda su familia se desmorona al igual que su lujosa vida llena de comodidades. Ella que es una mujer fría, orgullosa y un poco insoportable, se verá obligada a bajarse de su nube cuando su posición social baje al nivel de sirvienta y tenga que vivir el resto de su vida siendo una esclava de otros. Por suerte, tiene a Moo Myung otro sirviente al que ella trató muy mal en sus días como clase alta, pero que ahora a pesar de tener sus más y sus menos, él será un gran apoyo para aprender sobre su nueva vida.
La trama se centra principalmente en mostrarnos cómo era en esa época ser un sirviente, como su título indica, veremos cómo eran repudiados, tratados peor que animales en muchas ocasiones y aprovechándose de ellos y más, mientras ellos vivían como esclavos de sus amor y con sus cabezas llenas de sueños y de rabia por las ganas de subir de escalón social.
Por supuesto la trama también abarca muuucho tema de venganza, porque la protagonista arde de rabia por lo que le han hecho a su familia y a su padre, así que buscará al culpable para vengarse de él de algún modo. Y el culpable pues andará como todos los grandes cargos de esta clase de dramas, regalándonos horas y horas de maquinaciones y tramas políticas que me han dormido jajajaajaja
Sinceramente, es un drama que no me enganchó ya desde el primer capítulo, me lo esperaba más interesante, no sé enfocado desde otra manera, y pensé que mejoraría con el paso de los capítulos pero al contrario, para mí ha sido muy aburrido, se me ha hecho eterno.... y me he llevado una decepción con él. Pero OJO!, no es un drama para nada malo, es sólo que a mí como ya sabéis esta clase de dramas son una lotería o me encantan como fue el caso de "The moon that embraces the sun, Jang Ok Jung", etc, o me aburren a muerte... no tengo un punto intermedio creo jaja.
Así que, eso a mi personalmente me ha aburrido pero reconozco que el drama es muy interesante sobre todo por ver cómo era la vida de los sirvientes en la época, es lo mejor del drama, y algo que no se ha tratado en ningún otro drama histórico.
PERSONAJES:

Si os soy sincera, el drama lo he visto con mi cabeza en él, al 50% ,muchas veces ni le prestaba mucha atención y me ponía a hacer otras cosas mientras lo veía, soy culpable!!! jajaja Por mi falta de interés así que no les he prestado demasiada atención a los personajes, sólo diré que la protagonista a pesar de sus demonios y de entender por qué se comporta así, no me ha acabado de gustar el personaje porque me parece bastante repelente y altiva, no sé no acababa de empatizar del todo con ella. El protagonista sí que tiene más puntos para que les cojas cariño XD él siempre se comporta de forma más humilde y educada aunque tenga idas de olla y doble personalidad jajaja
Y como en todo drama histórico siempre tenemos al malo malísimo sediento de poder, no os preocupéis que también está. (Hombre y mujer por igual) Y otras grandes protagonistas de la historia son el cuerpo de sirvientas, cada una con personalidades distintas, y con su particular forma de ver la vida y de intentar escapar de esa vida, son bastante interesantes.
ROMANCE:
Un elemento muy dejado en el drama. Hay romance, que lo hay, así que los que esperéis historia de amor, la hay don't you worry child jaja
Pero siento que la han dejado descuidada muchísimo, al principio sí que parece que veremos una historia romántica buena, pero conforme pasan los capítulos se podría llamar la serie "La venganza de In Yub" porque todo se comienza a centrar mucho más en la parte oscura de la serie y en las venganzas, manipulaciones y conflictos..... y yo digo pero ¿Dónde está mi historia de amor? T_T jaja
A parte otra cosa que suele suceder en algunos dramas, que siempre el tercero parece ser más protagonista que los mismos protagonistas en la historia de amor, ya que ella se pasa el 70% de la serie o más atraída sólo por el tercero, el hombre con el que se iba a casar, si no entendí mal XD
Así que no, el romance aquí ha sido un suspenso para mí, no he visto química, ni me ha emocionado lo más mínimo , lo siento jaja
ESCENOGRAFÍA /OST:
Como siempre las ambientaciones históricas son impecables. Vale la pena ver estas series por los hermosos vestuarios, localizaciones, paisajes.... todo. Muy buena ambientación como siempre.
Y la OST ha sido bastante bonita, en su mayoría instrumental.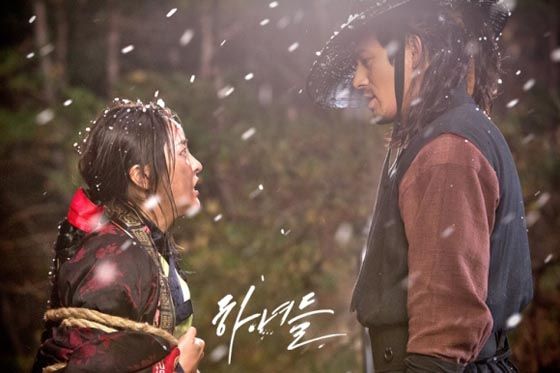 Así que chic@s, os animo a verlo si os interesa u os gustan esta clase de series, llevad claro que vereis bastante trama de venganzas y trapicheos políticos como en todo Saeguk, y una historia de amor en segundo plano y aunque a mi no me haya gustado, quizá a vosotros sí os guste más, lo dejo en vuestras manos.
Así que ya me callo y nos leemos muy prontito como siempre. Muak :)