Ha sido uno de los dramas más famosos que se han emitido últimamente, una historia llena de traiciones, de heridas, y con un toque amoroso, y hoy traigo esta reseña para todos vosotros. ¿Os animáis a entrar en el Hotel Ciel?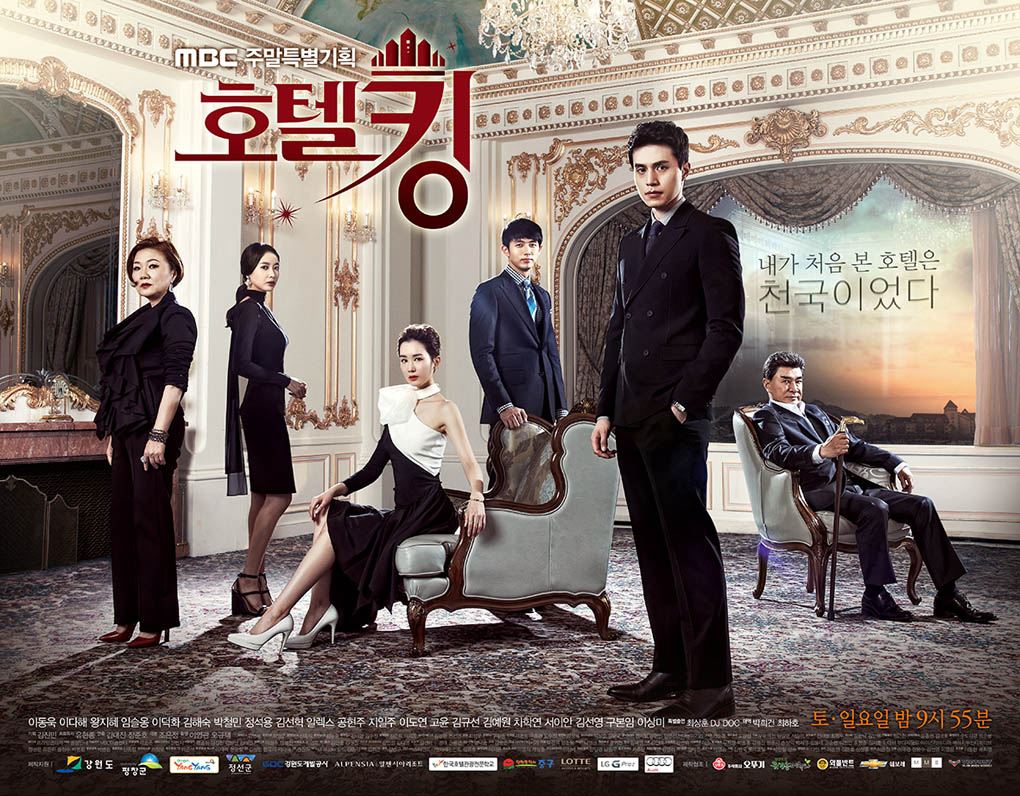 *Estás escuchando; Because It's you_ The One /Hotel King OST
Título: 호텔킹 / Hotel King
Género: Romance, Drama, Suspenso, Misterio.
Episodios: 32
Cadena: MBC
Período de emisión: 05-Abril-2014 al 27-Julio-2014
Horario: Sábados y Domingos 21:50
Banda Sonora Original: Hotel King OST
Cha Jae Wan tiene resentimiento hacia su padre quien lo abandono a él y a su madre, por lo tanto crece con una actitud sensata, fría y calculadora; por lo que se convierte en un hotelero perfeccionista y con una personalidad exigente para entrar en el hotel de su padre quién lo abandonó y cobrar venganza.
Cha Jae Wan hará todo lo posible por proteger a la hija de su padre , creyendo que es su hermana Ah Mo Ne, una heredera introvertida e inmadura que regresa de sus vacaciones después de la repentina y misteriosa muerte de su padre para proteger el negocio hotelero. Ah Mo Ne vivirá en la lucha por obedecer las últimas palabras que le dijo su padre antes de morir "No confíes en nadie". ¿Que hará Cha Jae Wan cuando se dé cuenta que su hermana ha desarrollado sentimientos por él y al parecer son totalmente correspondidos?
PROTAGONISTAS;
Lee Dong Wook Lee Da Hae
"Hotel King" era un drama muy esperado por mucha gente, y yo me incluyo, ya sólo sabiendo que el drama reuniría de nuevo a Lee Dong Wook y a Lee Da Hae tras 9 años en donde los pudimos ver en el drama My girl, Pues ya con tan sólo eso crea bastante expectación entre los fans de la pareja para ver el drama a pesar de sus 32 capítulos, que en muchas ocasiones esta clase de dramas se hacen muy largos debido a la cantidad de episodios. Así que desde que lo vi me llamó muchísimo la atención, a parte de por sus protagonistas que sobra decir que me encantan ambos, por la trama tan interesante que nos mostraba, parecía un drama diferente, un drama que iba a ser bueno
Jayden es un pobre niño que sobrevive en las calles de EEUU robando para unos matones que explotan a niños como él, con tan sólo otro niño de su misma edad sobreviven así, hasta que un día, un misterioso hombre irrumpe en su vida, prometiéndole tener gloria si lo sigue allá donde él diga, y prometiéndole cobrar venganza por los padres que lo abandonaron. Así, Jayden se convierte en la marioneta del malvado Lee Jong Goo que verá en este niño el instrumento perfecto para llevar a cabo también sus propios planes contra el hotel Ciel, el cuál quiere poseer. Los años pasan y Jayden, ahora llamado Cha Jae Wan es el gerente del hotel Ciel y comienza a cobrarse su venganza. Pero pronto todo se verá trastocado cuando aparezca Ah Mo Ne, la hija del presidente del hotel y su heredera. Una mujer caprichosa, infantil y rebelde que también se propone hacerse con las riendas del hotel sabiendo que hay muchos enemigos detrás de ella.
Empezaré por la historia, vuelvo a decir que me parece una historia muy bien escrita y coherente y bastante madura. Nos introduce elementos novedosos en el drama y ya sólo por eso el drama vale la pena verlo, tiene muy buen desarrollo y muy buenos personajes. Peeeeeeroooo ...... he de decir que el drama se me ha hecho un poco largo, a pesar de que me gustaba porque me ha gustado, creo que de la mitad para el final hay muchos capítulos en los que se les da muchas vueltas siempre al mismo tema sin avanzar en la trama, y la serie se transformó en una serie lacrimógena y algo corta venas. Demasiado largo y demasiado drama en él, es el único pego que le pondría a la serie. Podían haber contado lo mismo en 24 capítulos y hubiese quedado mejor, es sólo mi opinión.
También me ha decepcionado un poco porque creí que se centraría más en la parte romántica, que no sería tan de vengaza y drama, pero me equivoqué, aunque el drama tiene buena dosis de romance no nos podemos quejar, la trama se centra más en todos los líos del hotel y quien se queda con él, que es vamos ni el trono de Hierro en Game of thrones es tan codiciado por todos ... jajajaja todos quieren poseerlo como locos! paradddd
Románticamente hablando el drama nos regala también muy buenas escenas entre Ah Mo Ne y Cha Jae Wan, la química entre los actores es indudable, se nota que se llevan fenomenal que se tienen confianza y eso lo transmiten en pantalla, así que casaos ya y hacednos a todas felices! *_* jajajaja Me ha gustado mucho la parte romántica del drama, como ambos practicamente se odian al principio y tienen personalidades que no encajan, y luego mientras van conociendo sus secretos, miedos y su pasado comienzan a enamorarse. Una historia de amor muy bonita, sí señor!
Los personajes secundarios también aportan tanto a la trama como los protagonistas , son profundos y están muy muy bien desarrollados, no pararán de darnos sorpresas para bien y sobre todo para mal, porque madre mía, cuanto traidor, ya vereis, ya vereis jajaja
La BSO me parece preciosa, es de las cosas que más me han gustado de este drama, su música :) aparte creo que su final me ha parecido bastante justo y bien cerrado aunque queden alguna que otra incógnita...
Y poquito más que contaros sin espoilearos la mitad de la serie, que yo me conozco y se me van los dedos escribiendo y se lía parda jajaja así que nada, os recomiendo bastante esta serie, todo en ella está muy bien (aunque me aburriese la recta final y se me hiciese algo cansada) pero sí, dadle una oportunidad porque yo creo que os va a gustar.