Dramas, dramas everywhere!!! *_* jaja
HO GOO'S LOVE
Título: 호구의 사랑 / Hogooui Sarang
También conocida como: Flighty Love, A Pushover's Love, Fool's Love
Género: Romance, Comedia
Episodios: 16 (Por confirmar)
Cadena: tvN
Período de emisión: 09-Febrero-2015 al 25-Marzo-2015
Horario: Lunes y Martes 23:00
Banda Sonora Original: Ho Goo's Love OST
Ho Goo tiene una hermana gemela llamada Ho Kyung. Él ha tratado de pasar el examen de servicio civil, pero ha fracasado por 7 años. Un día, conoce a Do Hee. Ella era la chica más popular en sus días de escuela secundaria. Pasan la noche juntos, pero a la mañana siguiente encuentra a un bebé junto a él y Do Hee se ha ido.
Mi opinión: Uf mirad que me llama la atención mucho el drama pero hay una gran pega, que no soporto a UEE!!! jajajaja en serio es superior a mis fuerzas, la tengo entre ceja y ceja y no la voy a sacar en la vid, no me gusta como es, ni como actúa. Así que aunque acabe viendo la serie me lo pensaré bastante antes de empezarla o la veré en el 2020 jajaja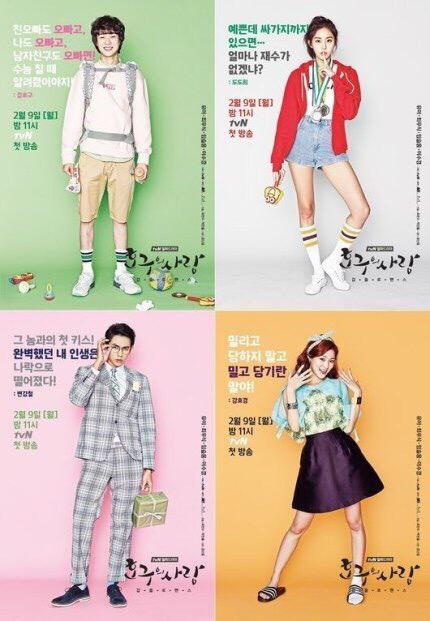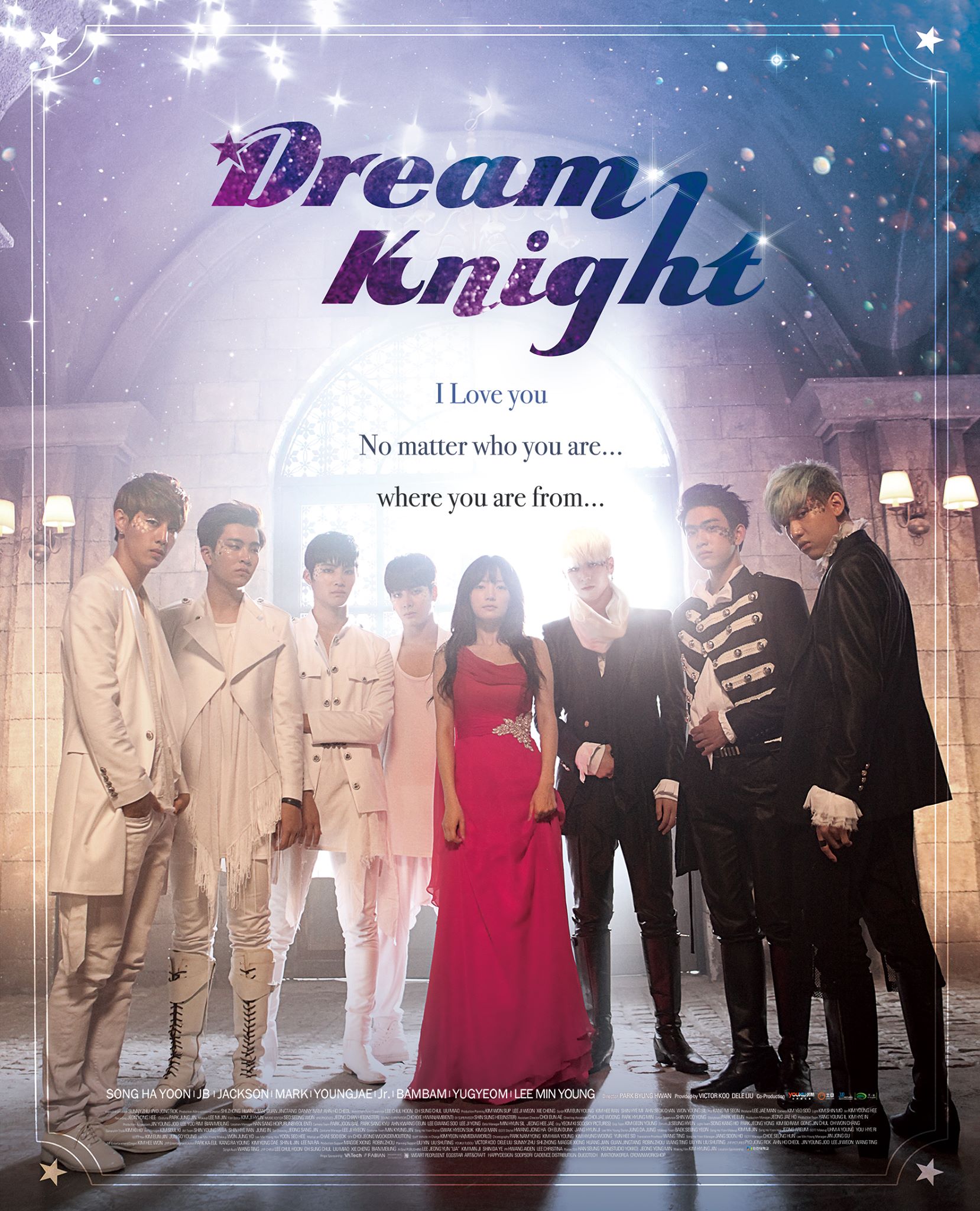 Título: 드림 나이트 / Dream Knight
Título en Español : "Caballero de Ensueño"
Género: Romance, Comedia, Fantasía, Urbano, Escolar.
Origen: Chino-Coreano.
Idiomas: Coreano, Mandarín e Ingles
Cadena: Youku/ Tudou (China), Naver (Corea del sur) Line TV (Tailandia).
Numero de Episodios: 12 Episodios
Horario: Martes y Jueves
Tiempo por episodio: 12 min aprox.
Fecha de estreno: 27-Enero-2015
"Dream Knight,"es un drama virtual que incorpora la música y el baile. Se trata de la historia de un chica que ha tenido un pasado tormentoso y sufrido; sin embargo, esto cambia cuando conoce a un grupo de chicos misteriosos. El drama tambien tratara temas tales como sueños adolescentes, amor y amistad.
Los 7 miembros de GOT7 actuaran en este drama.
El drama se empezó a grabar a mediados de 2014.
Varias estrellas de JYP Entertaiment estarán participando en este drama.
Es el primer drama que cuenta con la participación de todos los miembros de un grupo kpop.
El drama tendra una versión manga (anime).
El primer episodio del drama fue tendencia, en la pagina Youku tuvieron más de 3 millones de visitas en menos de 24 horas. Asimismo en Naver, Tudou y Line TV tuvieron altas visitas también.
Después de la emisión del 1er episodio tuvieron una alta puntuación de 9,4 sobre 10 en el sitio web de Youku.
En la pagina Youku Dream Knight ocupa el cuarto lugar en el top coreano con solo dos episodios hasta el momento.
Después de emmitirse el cuarto episodio, el drama reunió cerca de 13 millones de visitas en todos las páginas web que se trasmite el drama.
Dream Knight ha recibido muchas ofertas de firma de contratos con respecto a los derechos de publicación con Estados Unidos y Japón y se ha informado que los países del sudeste de Asia y Europa también están buscando sobre la posibilidad de la emisión del drama.
Mini drama protagonizado por los chicos de GOT7 y la actriz Song Ha Yoon. Poco que decir de este drama ya que es muy corto , claramente hecho para pasar un buen ratito cuando no tengas nada que ver. Si me da el punto algún día, le echaré un vistazo.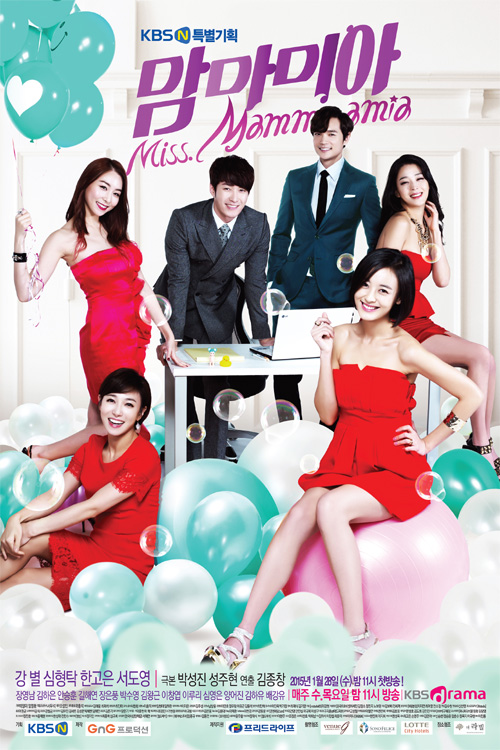 MISS MAMMA MIA
Título: 미스 맘마미아 / Miseu Mammamia
Género: Drama, Familia
Episodios: 12
Cadena: KBSN
Período de emisión: 28-Enero-2015
Horario: Miércoles 11:00
Seo Young Joo que a pesar de ser abandonada de pequeña por sus padres y traicionada por el hombre que amaba, mantiene una personalidad brillante y trabajadora criando a su hijo por su cuenta.
Bueno, el drama no tiene mala pinta, este me lo apunto en la lista a ver que tal.
I HEARD A RUMOR
Título: 풍문으로 들었소 / Poongmooneuro Deuleotso
También conocido como: I Heard it Through the Grapevine / Heard it as a Rumor
Anteriormente conocido como: 수재전쟁 / Sujaejeonjaeng / War of Brilliant Minds
Género: Familia, Romance

Episodios: 32

Cadena: SBS
Período de emisión: 23-Febrero-2015
Horario: Lunes y Martes 22:00
Han Jung Ho (Yoo Joon Sang) trabaja en una firma de abogados, es un poderoso hombre que incluso trabaja con oficiales del gobierno. Está casado con una elegante y hermosa mujer Choi Yeon Hee (Yoo Ho Jung), y además tiene el hijo perfecto, Han In Sang (Lee Joon). Sin embargo deben enfrentar severes incidientes, después de que In Sang se casa con una mujer a la que nunca esperaron como nuera (Go Ah Sung).
Uhhhh este suena a novelón total pasional , y todo acabado en al, xD, suena a que la nuera se va a meter entre el matrimonio (o que va a ser una malvada nuera y va a hundir a la family.......) y eso me encanta! jajaja me la apunto también!!!
BLOOD
Título: 블러드 / Beulleodeu
Genero: Medicina, Fantasía, Romance.
Episodios: 20
Cadena: KBS2
Período de emisión: 16-Febrero-2015 al 21-Abril-2015
Horario: Lunes y Martes 22:00
Banda Sonora Original: Blood OST


El drama de fantasía tiene una temática de médicos vampiros, y gira en torno a la vida de los trabajadores del hospital ficticio Tae Min Cancer Hospital, el centro de cáncer en la nación. Park Ji Sang (Ahn Jae Hyun),sera un vampiro cirujano. Él es descrito como un héroe que lucha para preservar la nobleza y la justicia de las vidas de pacientes terminales. Su única culpa es su hambre y su deseo por la sangre, algo que lucha por suprimir. Él es un "héroe oscuro" que no ve su destino como una maldición, si no que usa sus habilidades para ayudar a los otros. En el exterior, parece frío e indiferente, pero en realidad, se dice que es un individuo herido con un profundo anhelo por el toque humano.

Mientras tanto, Yoo Ri Ta ( Goo Hye Sun ) desempeña un papel de médico, heredera pez gordo, un médico estrella en el hospital y la sobrina del presidente de la junta. Ella es estirada y fría, pero muy capaz, y acostumbrada a ser la chica de oro. Lee Jae Wook ( Ji Jin Hee ) como su jefe, un ambicioso hombre que finje interiormente hacia el exterior una actitud suave, que resultará ser su mayor adversario.
El 19 de enero se llevó a cabo la primera lectura del guión. El equipo de producción IOK Media mencionó: "Realmente pudimos sentir la pasión de los actores. Los talento de los actores están perfectamente adecuados para sus roles. Por favor, anticipen este drama médico de fantasía
Entre Ahn Jae Hyun y Goo Hye Sun han salido rumores de que salen juntos por lo bien que se ven y la química.
El director Ki Min Soo y escritor Park Jae Bum trabajaron juntos en Good Doctor.
Se le ofreció el papel principal a Yoo Yun Suk y a Jung Il Woo.
El día 11-02-15 se llevó a cabo la conferencia de prensa.
Goo Hye Sun confesó que hay similitudes entre Ahn Jae Hyun y Lee Min Ho
Los tres personajes principales asistieron a Happy Together (el programa de variedades del KBS) y el capítulo sería estrenado el 12-02-15

YOO RI TA, vaya nombre que te han puesto hija jajajajajajaaj
Vampiritos!! jejeje pues me gusta mucho la trama, esperemos que Go Hye Sun no lo arruine (lo siento pero cada vez me decepciona mas esta actriz, y mira que me gustó en BBF)
Apuntado en la página 1276 de doramas pendientes de ver jajaja