¡Hola a todos! Hoy os vengo a hablar de "It started with a kiss" y su continuación, "They kiss again", un fantástico drama taiwanés con una historia, que seguro conocéis ya de sobra.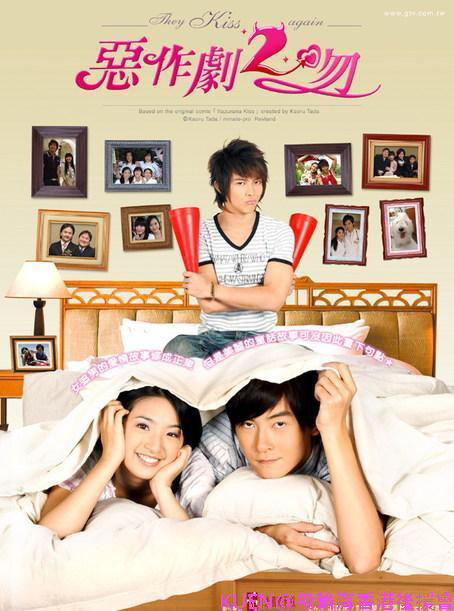 * estás escuchando; Practical Joke (E Zou Ju) / ISWAK OST
Estoy casi convencida de que la mayoría habréis visto ya este drama hace mucho, o alguna de sus versiones, y sabréis perfectamente de qué va la trama. De todas formas para las que no hayan oído hablar de él nunca por aquí os dejo su ficha y sinopsis :
Título original:

惡作劇之吻 / 恶作剧之吻 / E Zuo Ju Zhi Wen

Título inglés:

It Started With a Kiss

Título español:

Comenzó con un beso

Género:

Romance, Comedia

País: Taiwán

Emisión:

25 de Septiembre de 2005 al 12 de Febrero de 2006

Horario:

Domingos 22:00

Episodios:

20 (TV) ó 30 (DVD) + Especial
Yuan Xiang Qin es una chica alegre, optimista y algo torpe que vive con su padre. Desde que entró en el instituto hace 4 años está prendada del genio Jiang Zhi Shu pero el abismo entre ambos era inmenso ya que ella estaba en el aula de menos nivel académico. No obstante eso, Xiang Qin se decide a entregarle una carta de amor a Zhi Shu, pero Zhi Shu es arrogante, frío y distante, no soporta a las chicas tontas y Xiang Qin acaba siendo burlada.
Después de que un terremoto de nivel 2 derrumba su casa, Xiang Qin y su papá se mudan a la casa de un amigo de la universidad de su papá, el tío Ah Li. Por cosas del destino,el simpático y amigable tío Ah Li y su esposa Zhao Zi son los padres del frío y distante, Jiang Zhi Shu. Por mucho que lo intente Xiang Qin no puede dejar de querer a Zhi Shu, así que se dispone a ganarse su amor, para ello cuenta con la ayuda de la mamá de Zhi Shu que desde un principio la vio como una futura nuera/hija.
Zhi Shu por su parte, se siente agobiado y presionado así que niega por completo qualquier tipo de sentimiento hacia ella. Pero lo cierto es que Xiang Qin es la única via de escape que tiene para salir de la rutina y se divierte a su costa. Xiang Qin comete error tras error, y no faltan rivales que deseen ganarse el amor de Zhi Shu. ¿Conseguirá Xiang Qin ablandar el corazón de Zhi Shu?
Los protagonistas de esta versión, son Joe Cheng y Ariel Lin
Pues esta es la tercera vez que me veo esta historia. La primera fue hace bastante tiempo con la versión japonesa de 1996 "Itazura na kiss" drama protagonizado por Sato Aiko y Kashiwabara Takashi, drama en el que también salí con sordera permanente después de escuchar los insoportables chillidos de la protagonista. Sinceramente para nada recomendaría esta versión porque es bastante aburrida y mal interpretada. Luego llegó la versión coreana, "Playfull Kiss" Protagonizada por Kim Hyun Joong y Jung So Min. Esta versión me gustó bastante, quizá porque no me he leído los mangas como muchos y no hecho de menos nada en la historia, quizá sí un poco de más pasión entre ellos. El drama se hace bastante entretenido y ameno y las actuaciones son sólidas en general, así que os lo recomiendo. Y la última versión que se sabe de esta historia es un remake japonés de este año llamado "Itazura na kiss, love in tokyo" que a esta aún no le he hinchado el diente.
Y bueno centrándonos en el drama que venia a reseñar, esta versión me ha sorprendido muy gratamente. Aunque en calidad nadie les ganará a los coreanos, porque a mi parecer son los mejores haciendo dramas. Pero hay una cosa que concederle a esta versión, y es la tremenda química entre sus dos protagonistas, es alucinante en serio, son tan naturales que parece que sea verdad que se quieren, y esos besos... aiiii jajaja. Para mi de todas las versiones son la mejor pareja y seguro que para muchos también. La trama según he leído es mucho mas fiel al manga que en las otras versiones, aunque también le meten mucho rollo, pues como a todo. Durante la primera temporada digamos, "It started with a kiss" la verdad es que los capítulos son muy entretenidos y te mantienen pegada a la pantalla deseando que el chico de piedra se fije en ella al fin.
No he visto personaje más perseverante que el de esta chica, el de la protagonista, toda su vida detrás del chico...está claro que la perseverancia es la clave del éxito, incluso cuando no daban un duro por ella en general, ella hacía todo lo posible por llegar a lo más alto. Él personaje de él es un poco desesperante en ciertas ocasiones... en serio chica ¿Qué le ves? jajaja ya sabemos que es guapo y super listo y todas van detrás como moscas, pero ¿no te has dado cuenta de que es bipolar? jajaja en serio me desesperaba, un minuto era el hombre sonrisas y al siguiente serio a más no poder, un día te quiero y al otro te insulto lo que me de la gana.... en fin... XD La familia de él también merece una mención porque esa madre, que risa con ella, ¡quien tuviese una suegra así que te quisiera tantísimo! desde luego te hace reír muchísimo con su intento de hacer de celestina.
En la segunda temporada "They Kiss again"
(cuidado que contiene spoilers de la primera temporada)
la trama que nos encontramos, es la trama post boda. Ellos se han casado y ahora quieren vivir a tope su vida de casados, compaginándola
con sus estudios. y esta temporada sí que he de confesar que me se me ha hecho más larga y aburrida, era todo el rato lo mismo, ahora nos peleamos, ahora nos reconciliamos, ahora nos peleamos ... ect ect, tiene tambien sus buenos capítulos , no lo voy a negar, y la introducción de nuevos personajes de da bastante frescura a la serie.
En definitiva si ya habéis visto alguna de las otras versiones y sois fans de la historia, no os podéis perder esta versión, porque sin duda la parejita os encantará y el tercero en discordia interpretado a la perfección por Jiro Wang os hará reír sin parar. Es una buena mezcla entre amor y comedia que seguro no os decepciona ^_^