¡Waaaaa por fin acabé este drama! Ya de por sí es largo pero entre unas cosas y otras no avanzaba con el visionado de capítulos hasta ahora, pero ya sí, aquí os dejo la reseña sobre Gaksital, la historia de un héroe anónimo escondido bajo una máscara tradicional de novia, que lucha en contra de la opresión japonesa en la Corea de los años 30.
*Estás escuchando; Goodbye Days_Ulala Sesion / Gaksital OST
Título: 각시탈 / Gak-si-tal
Género: Histórico, Drama, Romance
Episodios: 28
Cadena: KBS2
Periodo de emision: 30-Mayo-2012 al 06-Septiembre-2012
Park Ki Woong
Gaksital es un conjunto manhwa famoso en la década de 1930, durante la ocupación japonesa. El protagonista, Lee Kang To, es conocido como "Gaksital" porque él lleva una máscara para ocultar su rostro - una de esas máscaras de juego tradicionales, específicamente el de mejillas sonrosadas reservado para el papel de la mujer, también conocida como la novia. Él es un hombre modesto joven en la vida real, pero cuando se pone su máscara de superhéroe, lucha contra la injusticia aciertos y errores de los derechos en uno de los períodos más oscuros de la historia de Corea ...
Pues como bien dice la sinopsis, la historia nos lleva hasta la década de los 30 cuando Corea estaba ocupada por los japoneses y ambos países luchaban por sus intereses. Japón queriendo conquistar el territorio coreano y los independentistas coreanos luchando por un Joseon libre y por sus derechos. Gaksital ayuda a estos independentistas a luchar contra la tiranía y maldad del ejército japonés y a recuperar la tierra que les corresponde por derecho. Un tema oscuro en la historia coreana y muy arriesgado de contar....
No se podría decir más sobre la trama porque es tan compleja que soltaría spoilers a diestro y siniestro y entonces vosotros me mataríais a mí XD
Gaksital, es uno de esos dramas complejos y brillantes. Lleno de matices, buenos personajes y una estupenda historia. Vamos de los que no te dejan indiferente.
Comenzando por la trama, desde el capítulo 1 en seguida te metes en la piel de esos ciudadanos que viven bajo la tiranía del ejército japonés y saltas de alegría cada vez de Gaksital aparece en escena para tomarse la justicia por su mano. Una trama llena de acción, pero en la que también tiene cabida el romance entre sus dos protagonistas: Lee Kang To, general del ejército japonés y Mok Dan una chica a la que la lucha por la independencia le viene de herencia. Ambos se odian desde el minuto uno, pero poco a poco esos muros empezarán a caer entre ellos cuando ella se de cuenta de que Lee Kang To es el famoso héroe enmascarado.
Poco a poco conoceremos las historias de todos los personajes principales, cómo eran y cómo han llegado a convertirse en lo que ahora son por los duros golpes de la vida. Como ya he dicho, unos personajes complejísimos y que bajo las interpretaciones de Joo Won, Jin Se Yun y Park Ki Woong entre otros igual de brillantes, les dan muchísimo color y que lo hacen estupendamente todos, que queréis que os diga. Al principio odiamos a Kang To por todas las perrerías que hace, que madre mía daban ganas de cogerlo por el pescuezo... jajaja y Shunji nos parece un amor, pero de qué manera cambian las tornas luego... impresionante. Es que Shunji pasa de profesor super adorable a hombre del gobierno vengativo e insensible...o sea de esto a esto...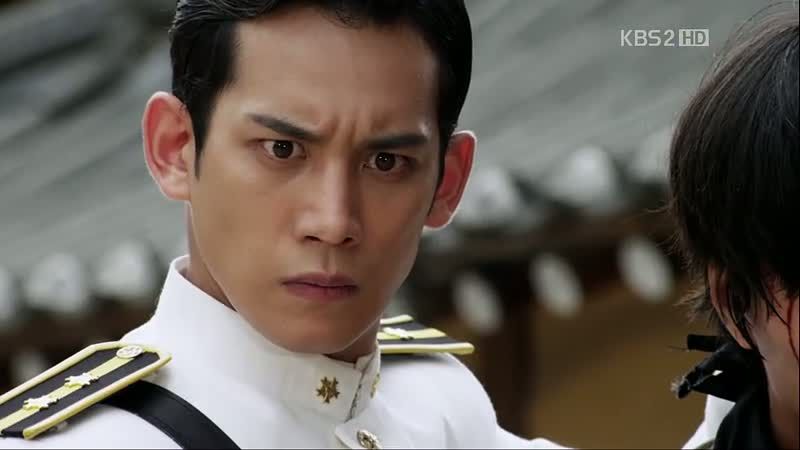 Aiii Shunji, a ti si que te hubiese cogido bien del pescuezo créeme jajajaja
Entiendo la posición del personaje y sus ansias de venganza pero se transforma en una persona tan baja y sin escrúpulos que acabé aborreciéndolo de malo que era. A parte de esas escenas en las que se poseía que le iba a dar algo a este hombre jajaja
¡Encima por su culpa sucedió una cosa muy mala el último cap, que nunca se la voy a perdonar!
¡Ya lo sabes Shunji! te he crucificado para siempre jajaja
Bueno aunque no entre en ellos, el resto del elenco también ha estado impecable y se merecen al menos una mención especial: Han Chae Ah, Shin Hyun Joo, Jun Noh Min, Chu Ho Jin y Park Joo Hyun entre otros no menos importantes, pero el elenco es muy grande y no hay ganas jajaja
Una especial mención si quiero hacer a dos personajes que sin quererlo ni proponérselo, me han hecho reír mucho y me refiero al hermano retrasado de Kang To, no lo puedo remediar, ese actor ya de por sí su cara me da risa y encima me hablaba de la forma que hablaba, pues a mi me daba la risa... pero vamos ¡impecable en su papel!
Y ese hermano de Shunji, el hombre de los ojos desencajados dios mío ¡nunca he visto a un asiático abrir tanto los ojos! jajajaja sus expresiones me levantaban el ánimo también jajajaja
Y bueno a pesar de la gran cantidad de drama en el último capítulo, creo que la escena final es estupenda, muy bien hecha y perfecta. Al fin y al cabo las cosas no se podían solucionar de otro modo.
En definitiva, Gaksital es otro de los dramas obligados para los amantes de estas series, llena de acción, emoción y lucha es una serie perfecta para los amantes de las series con buenas tramas y mucha acción. El romance es demasiado escaso quizá pero es que la serie no es sobre ellos, sino sobre la ocupación japonesa en Corea, así que por esa vez se lo dejo pasar. Pero aviso que si vais a empezar a ver esta serie porque creéis que es un drama lleno de romance, ya os digo desde aquí que no la veáis. El romance como ya he dicho es secundario, en el drama premia la acción. La BSO está de lujo eso sí, es preciosa y muy acorde con la historia.
¿Lo volvería a ver? Pues sinceramente no. Yo soy de esas a las que las pelis de mucha acción le dan dolor de cabeza jajaja y aunque Gaksital me ha encantado, no lo volvería a ver por la gran cantidad de escenas de acción que tiene, y porque en la recta final se me comenzó a hacer un poco bastante cuesta arriba llegar al final de la serie.
Aún así esta es sólo mi humilde opinión, cada persona podrá forjarse la suya cuando vea el drama , y lo dicho que si eres amante de los dramas de acción, históricos y los dramas llenos de intrigas no te puedes perder esta serie. Y si no te gustan este tipo de series, bueno, al menos dale una oportunidad porque el drama es una joya y tienen escenas realmente estupendas. Os lo recomiendo sin duda porque aparte con esta serie lograremos conocer algo más de la historia de Corea.